For the next 24 hours, The Amazing Give is raising funds for local nonprofits through a single online donation platform. Please consider a donation to The Alligator, which provides college students a hands-on, experiential learning opportunity to put into practice what they are learning in the classroom.
Support the next generation of journalists, professors, attorneys, authors, educators, business leaders, judges and public servants throughout Florida and the nation.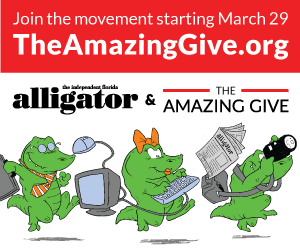 Your donation of any size can help The Alligator win extra funding, including these prizes:
From a Donor Far, Far Away
Alligator alumni are all over the world – from Florida to Hawaii, Switzerland to Vietnam! Help The Alligator win an extra $500 prize with a donation from the farthest distance away from Gainesville. Distance is determined by the billing address associated with the credit card used to make the donation.
Power Hour | Early Bird
The organization that raises the most dollars from 6 – 9 a.m. on March 30 will be awarded an extra $1,000.