By Alyssa Fisher
For a generation of moviegoers, the FirstLook vignettes that precede a feature have become an integral part of the cinema experience. In fact, for some, the series of behind-the-scenes shorts and commercials are as anticipated as the previews of upcoming films.
FirstLook is the brainchild of 1984 The Alligator alumnus Cliff Marks, who created it in 2002 to simultaneously engage and advertise to movie audiences as president of National CineMedia, the largest cinema advertising network.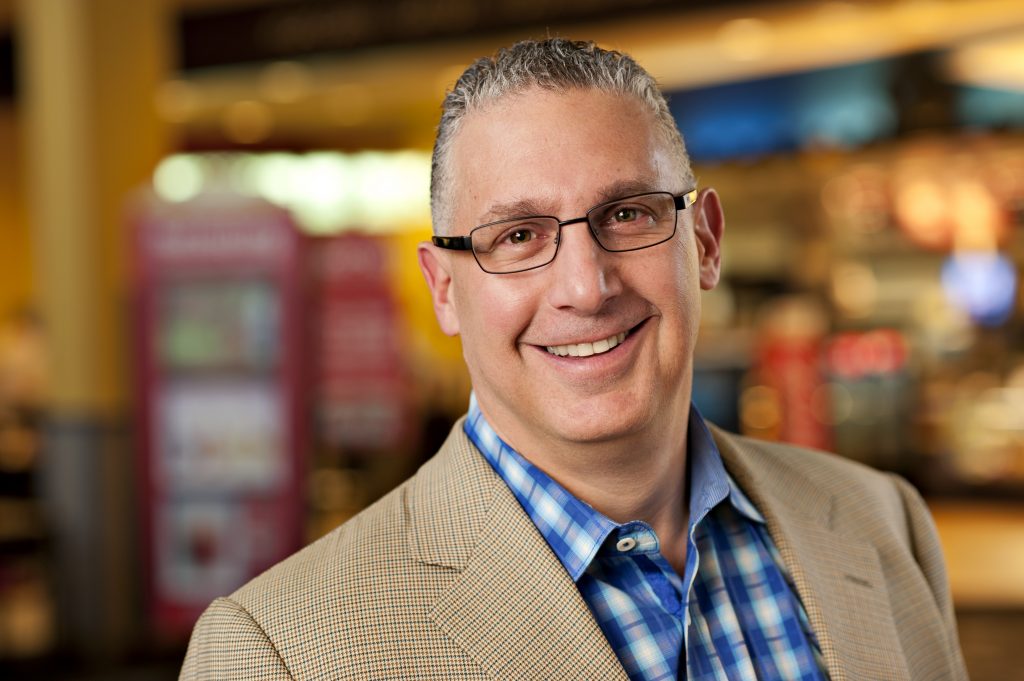 "I basically stole the concept from television," he quipped. "Put up really good content, intersperse it with commercials, and consumers will accept it because that's what they know. That's what we've been taught and conditioned to accept."
Marks, originally from Aventura, Fla., always has operated on strategy, and he knew early on that he wanted to go into advertising. He didn't know where in the field he belonged until he enrolled at the University of Florida and jumped on the advertising track in the College of Journalism and Communications. In Dr. Joe Pisani's media planning class, it hit him "like a ray of sunshine" — he was a media guy. In 1981, Marks was hired in the ad sales department at The Alligator.
"It was another step in helping me understand more about who I am and what I do well," he said. "I understood that I had this ability to communicate with people, to get people to like me and to get people to trust me, and to bring them ideas that would make a meaningful difference in their business."
Don't Frame Yourself
The year The Oaks Mall opened in Gainesville, Marks and a then-30-something Patricia Carey (current general manager of The Alligator) worked on a 24-page advertising section for the back-to-school issue that August. The toughest sell was to a mom-and-pop framing store. "What are you going to do? What will the creative be?" the owner asked him.
"What I didn't know then that I know now is that this would prepare me for the career that I would have for the rest of my life."
He went back to Carey, who, unknown to some, is an artist. She hand-drew a funny picture of someone trying, unsuccessfully, to put something in a frame. The headline: Don't Frame Yourself.
Marks convinced the owner to buy a quarter page, which also offered students a 25-percent discount.
"I'll never forget getting a phone call from the store owner saying, 'Oh my God, we're getting these ads in droves. This is one of the best investments I've ever made.' … Then they became a regular advertiser."
It's one of his favorite memories. Often it's difficult to know the success of a particular ad. In this case, students walked into the store waving The Alligator.
"What I didn't know then, that I know now," he said, "is that this would prepare me for the career that I would have for the rest of my life."
After graduating from UF in 1984, Marks moved to New York and got a job at the worldwide agency BBDO as an assistant buyer, working with companies such as Quaker Oats, Stroh Brewery and Pepsi. ("I believe my experience working at The Alligator was something that was well thought of by the people I was interviewing with," he said.) In 1986, he left to work at Young and Rubicam, where he worked on Kentucky Fried Chicken and Lincoln Mercury.
In 1989, he went to ESPN as a salesperson and watched it transform from a network to a brand. During his time, it launched ESPN2, ESPN Magazine, ESPN.com, ESPN Radio. He wasn't looking to leave, and he certainly wasn't looking to start his own company, but in 2002, he was recruited to start a cinema advertising company, National CineMedia. He didn't even know what movie theater advertising was.
"When I left ESPN, most people thought I was out of my mind," he said. "There was clearly a lot of risk leaving an established, well-oiled machine like ESPN to start a company. But it was a good idea. And it was an opportunity to start something new and go in as the boss. So I did it."
Spoiler alert: It was a great move.
"Promo-tainment"
The idea for National CineMedia was to captivate movie audiences, to create a line of communication. Most major movie theaters also were going bankrupt at the time and desperately needed a new stream of revenue. As previously mentioned, FirstLook was a model Marks learned from television: content and commercials packaged together. He approached companies rich on content—NBC, ABC, Turner Broadcasting, A&E, History Channel—and talked about the ability to reach people with branded, long-form entertainment in this new environment. To further drive his point, he created the word "promo-tainment."
"It took a lot of work and a lot of explaining for [audiences] to understand that FirstLook is an enhanced experience," Marks said. "Don't look at it as commercials; look at it as an engaging pre-show."
There wasn't much competition in the early days. The difference between the cinema and other media is that it doesn't have what he calls a MIGA, or "make it go away" device. If you don't want to watch a commercial on television, change the channel. On the radio, push a button. On the internet, hit an 'X.' In a magazine, turn the page. In the movie theater, consumers can't make it go away — and it's on a 40-foot screen.
"We're very cognizant that the world is changing. And if we don't change, we will go by the way of the dinosaur just like the other mediums that won't change."
Today, NCM is competing against new digital video mediums: Facebook, Google and Snapchat are competitors as much as ABC, Discovery Channel and ESPN.
"We're very cognizant that the world is changing," he said. "And if we don't change, we will go by the way of the dinosaur just like the other mediums that won't change."
It's this focus on the future of media that keeps him connected to UF. He works on a committee with Dean Diane McFarlin to help the College of Journalism stay au courant. He also tries to come in to lecture once a year.
"UF is still part of who I am," Marks said. "You never forget where you come from."
---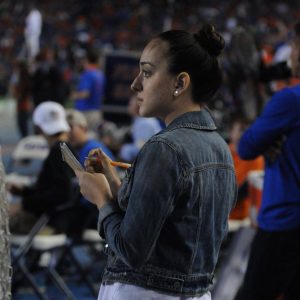 Alyssa Fisher was The Alligator's Fall 2015 editor-in-chief. The 2016 College of Journalism alumna is currently an assistant editor at Lifestyle Media Group, the fastest-growing publisher in South Florida with nine titles spanning the tri-county area. It's quite a range of magazines, so she strives to accentuate each community's identity. Before getting hired at LMG, she was a features intern at The Buffalo News. She also freelanced for Gainesville Magazine and interned at ELLE Magazine and a media company in Tel Aviv, Israel. Alyssa relishes the spontaneity of journalism, and she has a tendency to wander and fall into deep conversations with strangers. Follow her on Twitter, @AlyssaLFisher, and connect with her on LinkedIn. She's on the lookout for a great coffee shop, so reach out if you're in the area!