After working at The Independent Florida Alligator, Gene Page went to New York for graduate school at Long Island University's C.W. Post Campus. While there, Gene did some work for Newsday. After graduating from LIU and getting married, Gene and his wife Kim moved upstate to Cortland, New York, to work with newspapers in and around Syracuse. They lived there for three years, and it was during this time that Gene decided he wanted to shoot publicity still photographs on film and television productions.
Gene has worked on numerous film and television productions since 1994, and has been the still photographer for AMC's hit show "The Walking Dead" for six years. He also shoots underwater wrecks and Florida's springs and caves.
By Gene Page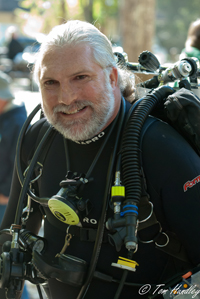 Can any of us imagine our time at UF without The Alligator? I know I can't.
I had so many opportunities at The Alligator. There seemed to be no end to what a student could accomplish while there.
My brother Roby and I transferred to UF after two years at St. Petersburg Junior College and, of course, had heard a lot about the uniquely independent school paper —  The Alligator. We drove up to meet with Jon Roosenraad at the j-school, as well as Marshall Prine in the photo office in the basement of Weimer Hall. Then we headed over to The Alligator to meet with whoever was in photo that day. We had a great talk with then-photo editor Mike Stocker, and we were primed and psyched to start classes in August!
That next year, my dream of working at The Alligator became a reality, and the following school year I was the photo editor for the whole two semesters. I even stuck around one extra semester just to be at the paper. My brother and I both got to know our now-wives at the paper, where we were all photo editors.
We were also the United Press International bureau, with an old unused UPI machine in the sports department and a not-so-old photo transmitter in photo. That was our window to the world, as our photos would go out to Miami, Atlanta or New York and take on a life of their own — but all originating in Gainesville and the paper's small darkroom.
Whether it was photographing civil rights marches in Georgia, or President Ronald Reagan greeting the Pope in Miami, things were usually happening for us to document. Abortion protests in Gainesville, stories on the electric chair and Ted Bundy. (I got to know the electric chair well — I got to sit in the electric chair once while photographing a story about it, and then months later a reporter asked me to be the UPI media witness to an execution. That was most certainly my most "interesting" day at The Alligator.)
There was so much more: Getting to go up in an aerobatic biplane aircraft for a story, and later a WWII bomber. Going up in a helicopter with a local parent as part of the search for his missing daughter. Going on to the Olustee Battlefield with reporter Phil Davis in period uniform for a unique time travel story on the battle. Spending the day with a lady in Starke who "cosmetized" the dead at a local funeral parlor. Going backstage with famed jazz trumpeter Dizzy Gillespie and talking with him about music and photography before shooting some photos of him warming up. Going to countless Gators football and basketball games — including the University of Alabama game where we had to use a zapper to protect ourselves from some overly excited 'Bama fans. Covering the Johnson Hall fire on campus. And then, the very next day, going up in a plane to get aerial shots of it, which no one else did.
I could most certainly go on, as many of you could, too.
I was born into a long-standing newspaper family, so it was pretty much a foregone conclusion to go to a journalism college and then work at a paper. But I also had a lifelong interest in film and television production, and it was in college that I learned of the still photographer's role in production. I thought, "What a perfect job for me."
After going on many productions as a photojournalist, including "Parenthood" when it came to UF, I learned of the first motion picture still photographer's course offered at the Maine Photographic Workshops. During my first staff job with the Syracuse Newspapers in upstate New York, I took that first class in Maine and started working part-time on low-budget films in the New York City metro area. After two years of doing that, I was finally able to get into the union.
I was on my way to my new photo career.
Now, I work on AMC's "The Walking Dead," which is my favorite show of my entire career. I've also worked with Tom Luse on the "Jeepers Creepers" films and producer Gale Anne Hurd on "The Punisher" in Tampa. Later, I worked with producer Greg Nicotero on "Piranha 3D" in Arizona. Another unbelievably powerful film I worked on was "Monster" in Orlando with Charlize Theron. All very good times with great people and cool projects.
One of the things I enjoy the most about photographing actors is watching and capturing those very unique moments where they take you on their journey. It is such a thrill to see, and I'm so very happy to be a part of it.
Joe Newman, a great reporter from our old days at The Alligator, once said I'd photographed so many dead bodies during my time at UF that he could totally see me shooting zombies now. While I had no idea I would be doing this back then, I have to agree with him.
But I really do prefer the theatrical dead, as opposed to the real thing. Someone yells, "cut!" and they get right up!