One byline.
One advertisement.
One photo credit.
One Alligator.
It all starts with one – You.
The Alligator has been serving the University of Florida and greater Gainesville since it first started as University News 111 years ago. Today, the Independent Florida Alligator is the largest student-run newspaper in the nation.
Whether you worked in the newsroom, advertising, business or production, we all have one thing in common: We got our start at the Alligator.
Today, like all newspapers, the Alligator is facing financial uncertainty in the digital era. To survive, the Alligator must evolve: telling stories in new ways and seeking new sources of revenue, including charitable donations from alumni and friends of the Alligator who want to give back.
To that end, we're proud to announce the launch of the Alligator's first major fundraising campaign to offset its considerable ongoing costs, including student stipends, as we continue to proudly advance college journalism. We're aiming to raise $250,000. Yes, that's a lot of money, but we've heard from hundreds of alumni and friends of the Alligator like you who are willing to help reach that goal.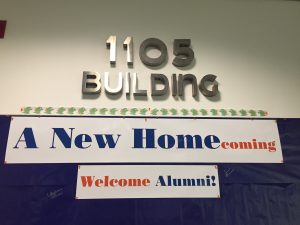 This campaign is only part of the Alligator's pursuit to sustain its mission to provide training and hands-on experience to university and college students in the various aspects of journalism, advertising and business through newspaper publication.
In 2016, leadership made a strategic move from its offices on University Avenue to the ground floor of the Gainesville Sun building, eliminating building maintenance costs, decreasing office overhead and improving technology and resources for the newsroom.

This fall, the paper will embark on pilot programs to explore additional advertising revenue streams — such as social media management for advertisers — and enhanced online services for its readers.

Alligator General Manager Trish Carey, the Campus Communications, Inc. board and alumni volunteers are forming a team to explore new sources of revenue, including researching other college newspapers' business models, looking for grant opportunities and consulting experts to identify opportunities and bring them to the CCI board and general manager for follow-up.
We need your help!
When you make a tax-deductible donation to the Alligator, you are supporting experiential student learning and the future generation of journalists in a time where the need for an independent and free press is clear.
One gift can make a difference, no matter the size. Every dollar you donate allows the Alligator to create opportunities for the next era of journalists, professors, attorneys, authors, educators, business leaders, judges and public servants.
Help us reach more alumni and friends of the Alligator! Share your favorite Alligator moments and donation information using #onealligator on social media.
Have a skill or expertise you can share to give back to your college newspaper?
Let us know at http://alligatoralumni.org/contact or contact [email protected].