The news earlier this summer that The Alligator would be moving from a daily circulation to a three-day print circulation came as a shock to some — and to some as an inevitable stepping stone in a rough economy. We caught up with The Alligator's general manager, Patricia Carey, and editor-in-chief, Molly Vossler, to see what the future holds for the student newspaper and how this change will affect news coverage, advertising and The Alligator's alumni community.
Q: How long has the Alligator's leadership been considering cutting print distribution to three times a week? Who made the final decision?
Carey: This decision was not made overnight, nor was it made without a great deal of thought and research.
The Alligator, as with most newspapers, is facing challenges regarding successful revenue streams. Most college newspapers have already reduced their print runs as well as their print frequency.
As the General Manager, I am responsible for the business side of The Alligator. I have been looking into this for about three years but held off on any action until we saw the results of other cost-savings measures.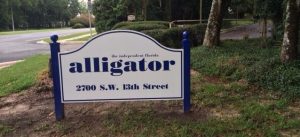 One of those measures was the sale of the 1105 West University Avenue building. The building was going to require extensive attention in the immediate future which would have taken money away from the already dwindling cash resources of the operational, day-to-day functions of The Alligator. Thanks to Ed Barber, the previous General Manager, the building was purchased and eventually paid off which allowed us to put it up for sale.
Q: How will you be changing your advertising strategy in light of this move? Will The Alligator's online advertising rates increase now that there are fewer print advertising opportunities?
Carey: The Advertising Director and I are in the process of creating rates and discounts that will be beneficial to The Alligator and our advertisers.
Q: How much of this move was purely due to budget cuts? Would you have done this regardless if The Alligator's budget was fuller?
Carey: Initially, this decision was obviously driven by the loss of revenue and the motivation to keep The Alligator in business for many years to come. For the past few years, the news staff has had a lot of content to generate to fill the space in the paper. I am excited now to go to three times a week which will allow students the time to focus on in-depth stories and feature pieces.
Q: How will breaking news coverage change due to this move?
Vossler: The way we cover breaking news will not change. We will still get the story onto our website and social media pages as soon as possible, which is something we've been doing for awhile now. If anything, as we develop a quicker pace and will focus more on web-oriented breaking news stories, we will publish almost every story online before it goes to print. Those who follow our Facebook and Twitter pages — as well as our newsletter — will be able to see our stories as soon as they come out. Those who don't follow us on social media will still be able to read our stories in print, but on Monday, Wednesday or Friday.
Q: Will events, daily crime news, city council meetings and other time-sensitive news still be covered if they won't come out in print for another two days?
Vossler: Daily crime news, city council meetings and other time-sensitive news will still be covered in a timely manner. Those stories will be published online as soon as the writer is finished with them, before they go into print a day or two later.
Q: Will The Alligator's daily newsletter have advertisements?
Vossler: As of now, during the summertime, we don't have ads included with the newsletter. But in the fall, once we get more subscribers, it's in the cards.
Carey: The three editors and the business side are discussing that possibility.
Q: How would you respond to alumni who are concerned that this move signals a decline financially and/or brand-wise for The Alligator, especially in light of the recent sale of the longtime building on University Avenue?
Vossler: Many of our staff members were upset to hear we would be downsizing simply because we pride ourselves in being a daily newspaper, just like many of us were upset to leave our beloved building. However, this adjustment serves as an incentive to make our transition into web-oriented storytelling even more drastic.
Just like we adjusted to our move from West University, we will adjust to this change. Although many of us wish the circumstances were different, we have to be proactive and we can't — and won't — let financial roadblocks hold us back.
Carey: These moves are an effort to make sure that we are here for a very long time. Things are extremely tight in the newspaper business with few exceptions.
The Alligator is very lucky to have a very creative and devoted career staff that is working behind the scenes to help keep us successful. We have an extremely talented news staff that produces quality content that our readers want. We also have an advertising staff that on a daily basis "beats the bushes" for new business. These are all positive factors and an unbeatable combination.
Q: How would you respond to alumni who believe The Alligator needs to move away from print altogether and go to an all-digital product?
Vossler: Well, hopefully this never happens, considering our physical paper is a staple within our campus community and Gainesville in general. For many UF students and faculty, picking up our paper is part of their morning routine.
For as long as possible, and as long as our finances allow, we'd like to stay in print. Part of the reason we downsized is so that we may be able to print our paper long after our current staff is gone.
Carey: For now print is where our revenue is coming from. We sell digital but very little revenue is from that area.
Q:  What comes next for The Alligator? What can alumni do to support the paper's mission and its student reporters?
Vossler: Alumni who live in Florida can donate toThe Alligator through a donation button on our website. Right now, additional funding would be of great assistance to our student staff members.
Besides raising a little more money, our main goal is to gather as many followers on our Facebook and Twitter pages as possible — and to eventually gather a large amount of subscribers to our newsletter. If Alligator alumni made sure to invite others to "like" our Facebook page, that would be of momentous help.
Carey: Please remember that there are student reporters AND student sales people that make up this wonderful institution. We have a great group of volunteer alumni that are helping in different areas. If one of them comes knocking at your door for assistance please respond to their request – whether it be helping out with donations or time or expertise or all three. Thank you in advance.
Q: Will The Alligator still be the largest student newspaper in the country? Doesn't that title hinge on circulation statistics?
Carey: The FSView/Flambeau print 25,000 two times a week for a total of 50,000 per week. I do not think that they are independent financially or editorially since they have been bought out by Gannett.
The Alligator prints 18,000 three times a week for a weekly total of 54,000. We are independent financially and editorially of UF. There is a big drop in distribution with the other (student) newspapers to about 10,000.
Q: Anything else you'd like to add?
Vossler: The support we receive from The Alligator alumni does not go unnoticed or unappreciated. We will gladly accept any contribution that alumni can make to our current paper, even if it's just a short email containing advice or words of wisdom from those who love The Alligator as much as we do.
The most important thing I have to say is that the students currently working here are doing everything in their power (working long hours with little payment in return) to ensure that the University of Florida's student newspaper is the best in the country, regardless of its size.
Carey: The Alligator has been through some very tough times in the past and has come out on the other side. This is another challenge that we will overcome and be successful.