Today, the Alligator announced circulation changes for the Fall and Spring semesters. Beginning in August, the paper will move from its traditional weekday format to printing physical papers Mondays, Wednesdays and Fridays. The Alligator has been considered a "daily" newspaper for more than 50 years when it first began printing Monday through Friday in the early 1960s.
Current editors announced the changes in today's page six editorial, highlighting the paper's shift toward online journalism. Among other changes at the Alligator — including the University Ave. building sale in 2016 — this decrease in printed circulation signifies an effort to ensure the paper's future as a beacon of journalistic excellence and commitment to deliver more content, not less.
Not only will breaking news appear on the Alligator's social media pages faster than we ever have in the past, but we will be implementing an online newsletter that will deliver news in the fastest, simplest and most convenient fashion.

– The Independent Florida Alligator | May 23, 2017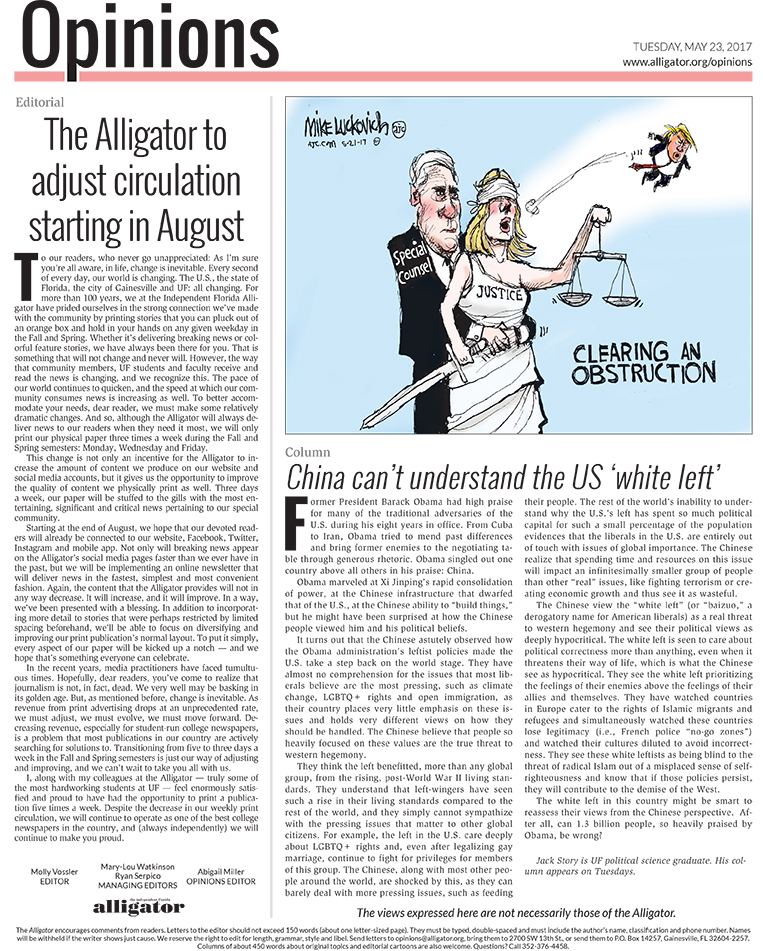 The Alligator joins other news outlets already maximizing online traffic and bringing additional value to readers, including The New York Times, Washington Post, Quartz and ProPublica. 
"Vox last year began hiring for an email editor to direct their newsletter operations," said Ryan Serpico, Alligator online managing editor. "That's a pretty big deal."
As the Alligator continues to expand its online operation, leadership hopes to bring more services to readers and help generate additional online traffic. The newsletter accompanies the print edition with links to stories, photos and features online; it is expected to expand in Fall 2017 alongside the circulation changes.
"One of my favorite aspects of the newsletter is that rather than our readers having to go to the newsstand or the website, the news comes to them," Serpico said.
---
The Alligator Newsletter
1. Go to http://ifla.news/get-informed
2. Enter your email
3. Verify your email
4. Check your inbox every Tuesday and Thursday for top stories from the Alligator